4 months / 4 continents / 4 golf stories New Zealand BUNKER/S UP MAGAZINE #1 2014
New Zealand – The bleeding heart of a green keeper
Kiwis are very nice people and at first glance they appear to be quite similar to us. It is the second impression that makes you understand that they actually live on the other side of this globe.

That golf came down to this wonderful country is understandable, since the modern culture was built on strong British influence. That the golf codex would be a lot less complicated than in our latitudinal lines is also comprehensible as a lot of the immigrants from Europe were wailers, sealers and mariners. The author supposes that this mixture with the local settlers from Polynesian Islands known as Maoris and their ‹no f..k around› attitude made the classy game of golf pure again on the island.
Beautiful landscape imposes breathtaking golf courses. Links courses can be found in every little cost town and not seldom they are run on a very low budget. Smart to use sheep as green keepers on the fairways as they do two in one: Feed themselves and cut the fairways to the pleasure of men. Of course the grass quality can be improved using machines, but it still does not take a lot of working force to make a high quality golf course as the story of Leon proves:
Leon had worked as green keeper on several good clubs around the country. As former scratch player he knows the game to various extents. He had though become tired of his job and needed a break. It was during this time he came by the southern end of the 90 miles beach in the very north of New Zealand and discovered the Kaitaia Golf Links.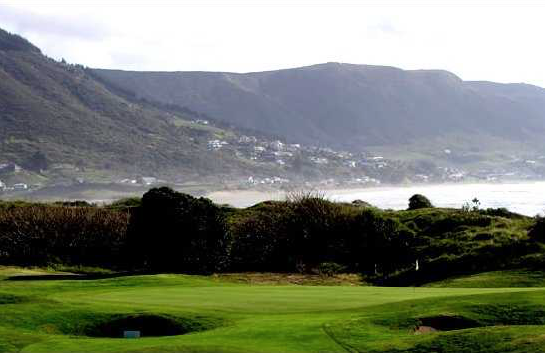 It stretches smoothly along the ocean and the dunes giving it the real links feel. It hurt his heart to see the course in a very bad condition. He decided to stay and make the course ‹what it is supposed to be›. Within two years Leon and his assistant Arthur made the greens to some of the best on the island. Leon in his usual understating manner: «Just takes a little knowledge about grass. Don't use fertilizer when it wants to grow by itself!»
Course changes in the architecture he masters by hand and his dream is to build another couple of holes along the ocean. The land carries all that beauty in itself. «Nature more or less designed the holes by itself, you just have to build them.»
Of course Leon talked me into a money game. «It ain't golf if it ain't about the money!» Leon opened his can with bourbon and coke. It is that extra pressure that makes you hurt for real when you loose. We all want it to a certain extent. I could only agree and we battled to the bitter end. Nor rain, storm nor darkness could withhold us. I sunk a 5 meters for par on the 17th to keep my two shot lead and break Leon's spirit. Lucky end and my mind was tempted to imagine the feeling walking down that 18th in Augusta.
Text and Photos: Andi Ahlm